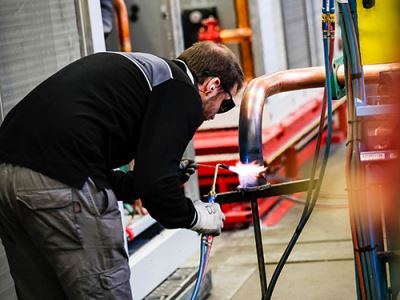 Mitsubishi Electric Hydronics & IT Cooling Systems has been certified under the ISO (International Organization for Standardization) 45001:2018, notwithstanding the challenges of obtaining this new certification during the global COVID-19 pandemic.

Health and safety in the workplace are important values for MEHITS and ISO 45001 sets the minimum standard of practice to protect employees. This international standard, based on the previous OHSAS 18001, has some distinctive and more stringent differences. ISO 45001 is a dynamic and process-based certification that is aimed at eliminating the chance of any potential work-related disease and injury, in addition to promoting and protecting employee's physical and mental health.
UNI EN ISO 45001 further minimizes hazards, compared to OHSAS 18001 by not only focusing on solutions to hazards but also trying to understand why they happen. With the upgrade this new certification, there has been a significant shift in the way organisations perceive the management of health and safety.
For more information: https://www.iso.org/iso-45001-occupational-health-and-safety.html